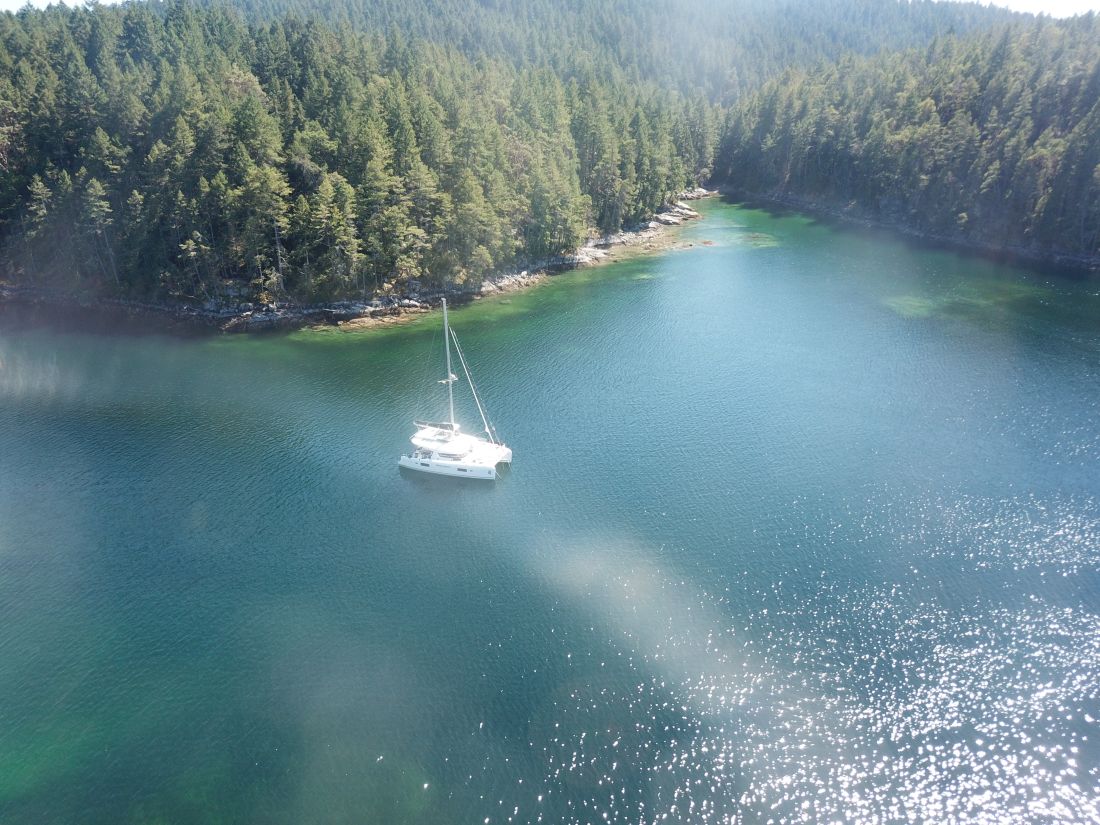 Sailing Interview with Henry Tkachyk
My long-time friend, Henry Tkachyk, is a passionate sailor who regales us with some fascinating insight into this great outdoor sport.
When did your passion for sailing start, and how did it come about?
My passion for sailing started in my early twenties, shortly after starting my first job out of University.  I've always loved the water and as an adult, I wanted to take the opportunity to experience every watersport activity I could.  I learned to scuba, waterski, windsurf, kayak, really anything I could find that was in, on, under, or around the water.
I'd had an opportunity for a sailing trip one May Long Weekend with a friend's family.  We flew into Victoria then spent 3 nights on the water sailing the Gulf Islands.  On our first day, we had a short sail to Montague Harbour then spent an amazing evening sitting on the boat, eating, drinking, and just enjoying the sights and sounds.  I'd never had a chance to be so fully immersed and it was amazing.  Sitting on the boat deck, glass of wine in hand, and eating fresh crab caught earlier that evening was paradise for me.  I knew that one day I wanted to be able to do that on my own.
Growing up and working in Calgary we don't have many large bodies of water, so I had to take the opportunities as they came.  A few years later, I was traveling to Vancouver frequently for business and signed up for my first sailing course.  I can still remember the first time the sails filled, and the boat took off when I was at the helm.  It's such a different experience than simply pushing down on the accelerator or throttle. It's really something that has to be experienced to appreciate the power of it all.
As I gained more experience I started to sail for longer and to more remote places.  Without roads or signs, and once we get past the major cities it gives a feeling of remoteness like few other experiences.  It's easy to feel like an explorer going to places no one has ever been before.  Seeing nature in a way you simply can't see any other way.  I liken it to the difference between watching a sport and playing it.  It's so much fuller of an experience to play the game.  Sailing can give you that same type of fully immersed experience with nature.
What do you enjoy about guiding and teaching others?
I love being able to experience sailing for the first time all over again through the eyes of my guests and students.  The fascination people get when the boat sails against the wind, the thrill when the boat heels over, and the overall sense of adventure of traveling where there are no roads.  Everyone I've taken on a boat finds something amazing in these experiences and I get to revisit it like it's my first time.  It keeps things really fresh for me.  Going to someplace I've been before but getting to see people experience for the first time is a great gift.  It feels like the first time for me as well.
There is so much of sailing that is tied to our history, and of the exploration that resulted in the founding of our Country.  Teaching is part athletic, and part historic which is really very cool.
I enjoy sharing my knowledge, and there is so much about sailing that the average person doesn't understand that people always want to know how things work.  Even if I'm just out with friends, people always have so many questions that teaching just became a natural extension of sailing.
What would you say to people that have a perceived fear of sailing?
I can understand how people can perceive sailing as being a bit scary, but I do think it really is about perception.  People see these pictures of sailboats leaned over dramatically appearing ready to tip over, but the experience on the boat is quite different.  The boats I sail (cruising boats) are large, heavy, and very stable.  While it may look from shore very dramatic it doesn't feel so extreme while you're onboard.
Sailing, like most outdoor activities, can be enjoyed with varying levels of intensity.  Some people like to go out for a hike for an hour or two, while others want to spend days crossing rugged terrain with everything they need on their backs.  Sailing can afford the same variety of experiences from calm and serene to aggressive and extreme.  I've had experience with most aspects but prefer what is referred to as Cruising.  You might think about it more like camping on the water.  Since we have all of our belongings with us for a week or more on the water we normally sail in a more moderate way.  The experience is more like an all-inclusive vacation than participating in an extreme sport.
Ultimately, Skippers are responsible for the safety of their crew and vessel.  A knowledgeable Skipper will pick conditions and sail the boat in a way that feels safe and is enjoyable for their crew.  For anyone interested in the experience, but worried about being scared I would suggest an introductory sail with an experienced Skipper/Instructor who can put you at ease.
Do you have any mentors or sources that you learn from?
I have 2 sailing mentors who stand out as having the most impact.  My first instructor, Neil Shearar, taught me how to sail and to this day I still remember so much of what I learned from him.  I find much of my own teaching was inspired by what and how he taught me.  He's a bit of a legend in sailing circles on the coast.  He's still running a boat as Captain on an ECO Sailing and Adventure tour.  He's also an excellent nature photographer.
Neil had a tough, no-nonsense approach to teaching.  We had a great time together, but he made it clear from the outset that it was a responsibility to take seriously.  He pushed me hard, but it was a style that worked well for me.   I still have many of his lessons firmly entrenched in my memory banks.  Looking back now, I realize he taught me things well beyond the requirements of the course but have been so beneficial for me to have learned.  It was a great start for me, and by setting the bar high I learned so much more than just the basics.  It's how I want to be remembered by my students.
The other mentor is a friend, Robert Smith, who introduced me to racing.  Not only did he teach me so much about sailing, but he also helped me get connected to the racing community that opened up many other doors for me.  Racing really has been the best learning experience for developing my sailing skills.  The ability to sail the boat to its breaking point, and sometimes beyond.  Sailing in a variety of situations, and conditions, and generally pushing beyond the comfort zone is what racing is all about.  Being able to push limits with a crew of knowledgeable and experienced sailors and on a boat that's prepared is an amazing training ground.  I believe getting to push past the edge, making mistakes, and recovering is the best learning there is.
The one thing I've learned from both these two mentors, and any successful and respected sailor, is to respect the ocean.  With so many people in the world who get by on hubris, or blind confidence (and often overconfidence) it still strikes me how that doesn't really exist with sailors with more than a little experience.  The ocean has a way of making it clear very quickly that she will always be the one in charge.  You'll do well if you're careful, prepared, and respectful.  If not, she can be quick to put you back in line.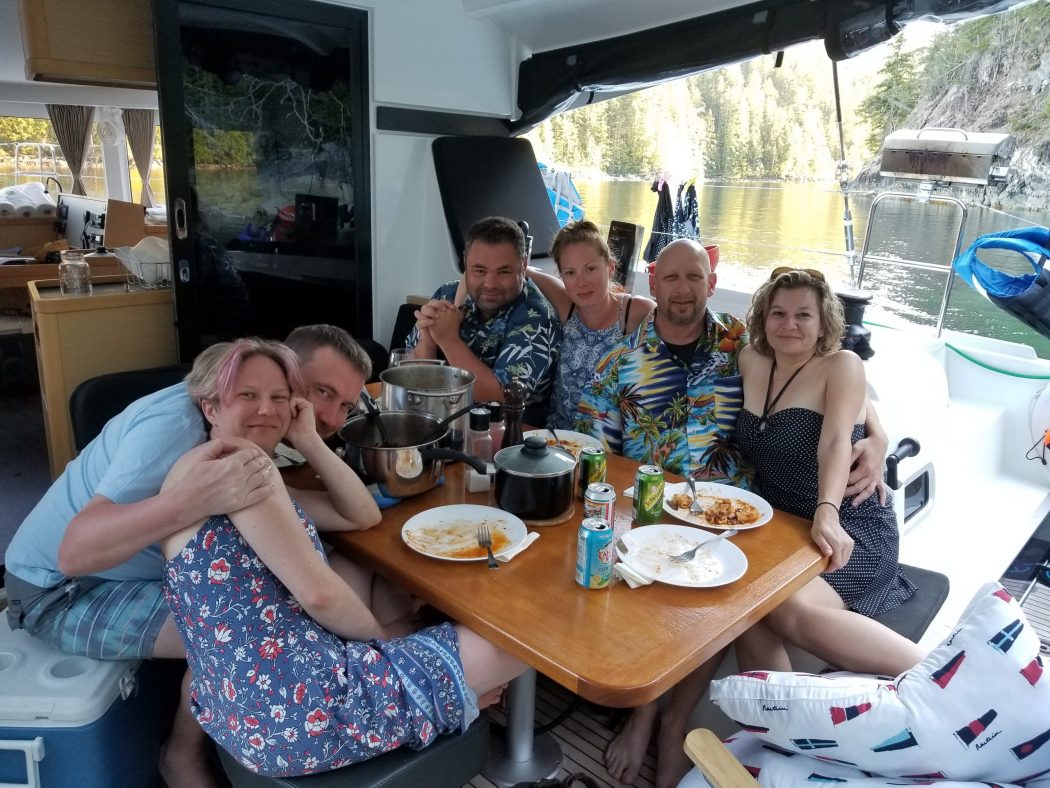 Where are your favorite places to sail?
Living on the West Coast there is a wealth of great places to sail.  In fact, there really is no other cruising grounds in the world that are as diverse and accessible as the West Coast of Canada.
Personally, when I go sailing, I like to get away from the crowds, so I will head to Desolation Sound.  For me, it's about traveling beyond the end of the road to a cruising destination that's boat access only.  Even in the peak of the summer when it's at its busiest the lack of development on land allows every channel and anchorage to feel private and remote. If you really want to get away from it all there are a seemingly endless number of bays, channels, and "one boat coves" to tuck away in where you can have the water all to yourself.
Desolation is fairly accessible, a two-day sail from either Vancouver or Nanaimo and a half day from either Comox or Powell River.  There is some of the most breathtaking scenery on the planet that can only be described as Quintessentially Canadian.
The lack of people also equates to an abundance of wildlife.  Eagles, seals, otters, and dolphins are virtually guaranteed sightings.  Whales and Sea Lions are also very common to be seen.  It also just happens to have the warmest swimming water on the West Coast.
Lastly, it's tucked away out of the prevailing winds and currents making for very moderate boating conditions all season long.  In my mind, it really offers the best of West Coast Sailing
Are there any sailing destinations on your bucket list?
I have lots of warm tropical destinations I'd like to see, and when I first started to sail my goal was to cross an ocean.  While I haven't crossed any oceans yet, the one bucket list trip I dream about is sailing the Mediterranean.  I want to follow the course of Odysseus, in Homer's The Odyssey.  A combination of history and adventure.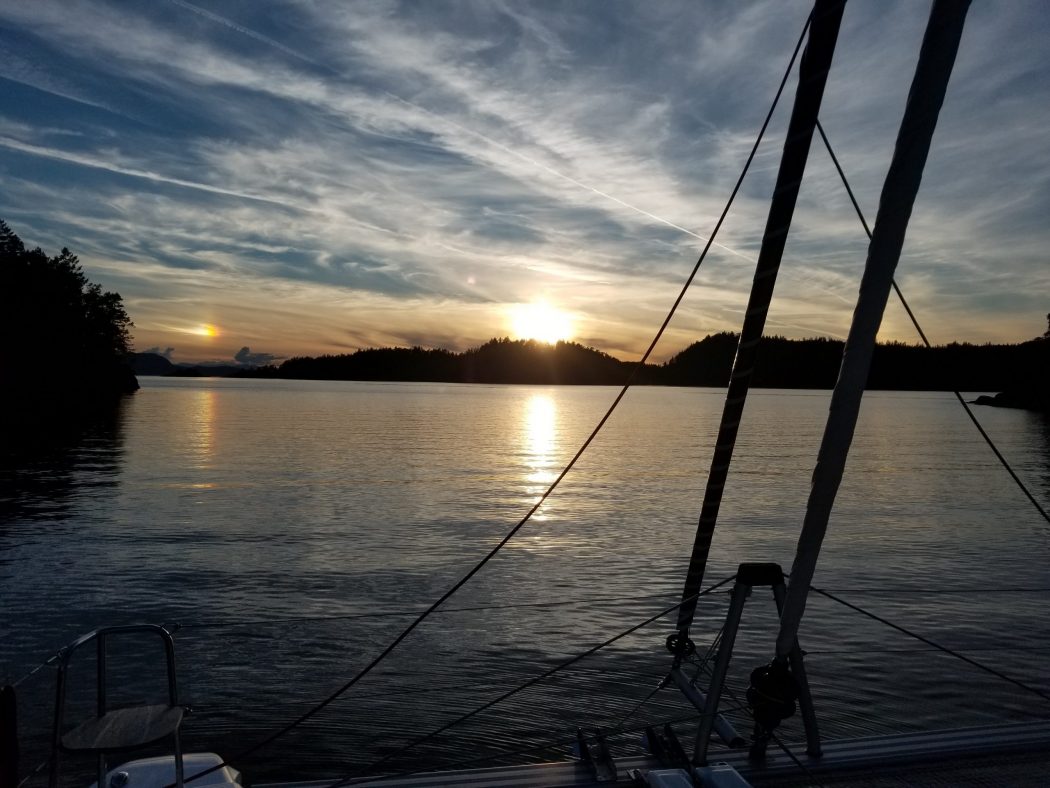 Do you have any favorite sailing stories to share?
I feel like every trip offers some kind of once in a lifetime experience but there are a couple of memories that really stand out for me.
On the West Coast (and many other parts of the ocean) we have bioluminescence in the form of iridescent algae that can be found in our waters.  This algae lights up fluorescent green when disturbed. It's common to see it in our waters, sometimes more brightly than others.  The water can look normal and dark until disturbed then the moving water lights up bright fluorescent green.  You can see little minnows darting in the shallows leaving a green trail behind them.  A nighttime trip in the dinghy leaves a glowing wake and going for a mid-night swim where every movement leaves a trail of light is pretty magical.
On one trip we were in a calm anchorage.  We saw the bioluminescence start and went out to explore in our dinghy.  Shortly after hitting the water, the sky opened up with a booming of thunder and it started to rain very hard.  The rain was hitting the ocean's surface so hard the water was bouncing back up almost as if bouncing off a trampoline.  It was more like a trampoline on fire though as each drop that hit the surface set of an explosion of green light, not just on the surface but the water bouncing up was lit up green as well.  Almost like upside down fireworks.  As far as the eye could see was dancing and splashing glowing green. An amazing sight to behold, and nothing else is quite like it.
On another trip, we were under sail in somewhat moderate winds.  We had the sails full and were moving along although not very fast.  It was a bit of a relaxing trip as we headed from one anchorage to the next on a nice sunny day.  Shortly after rounding a corner and as we were sailing through a fairly narrow passage, we found ourselves quickly surrounded by powerboats all moving much faster than us (louder and with tossing out more wake as well) making our slow progress seem even slower.  Within a few minutes, the powerboats all passed down the channel and disappeared around the corner heading to the next anchorage for the night.
Almost as soon as the last powerboat disappeared the water started making a strange rippling a half mile or so away.  What started small quickly grew to a splashing and crashing almost like moguls popping out of the ocean and heading our way.  Within minutes we were completely surrounded by a large pod of Dolphins.  A few hundred or more swimming, darting, and schooling up and circling around.
I presume they were hunting something and herding their prey into a small circle before the feeding frenzy would begin.  The dolphins were darting and jumping and playing in a huge moving swatch across the water.  When they got to our boat they were seemingly everywhere at once.  Since we were under sail, we moved silently through the water letting them get close enough to the boat to nearly touch them.  We were towing our dinghy, with one of our crew in it taking pictures, about 30 feet behind the boat.  The Dolphins were swimming between the two boats and under and around the dinghy providing a very up close and personal experience.  The Dolphins moved up and down the coastline passing us back and forth multiple times over about an hour.  All the while we're the only boat in the area with everyone else having already raced by to the next anchorage.  This is the kind of experience that only comes when traveling under sail, on the slow boat, but in tune with nature.
What brought you joy this week? 
Other than this interview, and the ability to talk about sailing?  I'm a bit of a DIY'er at home and finished a plumbing project I've been working on for a few weeks.  It's not very glamourous but I do enjoy the sense of accomplishment of figuring out how to do something I've never done before. This challenge involved drilling through a granite countertop to install a new tap in an old sink.
To book Henry, contact him at henrytk92@hotmail.com or https://www.linkedin.com/in/henry-tkachyk-4b06b711?