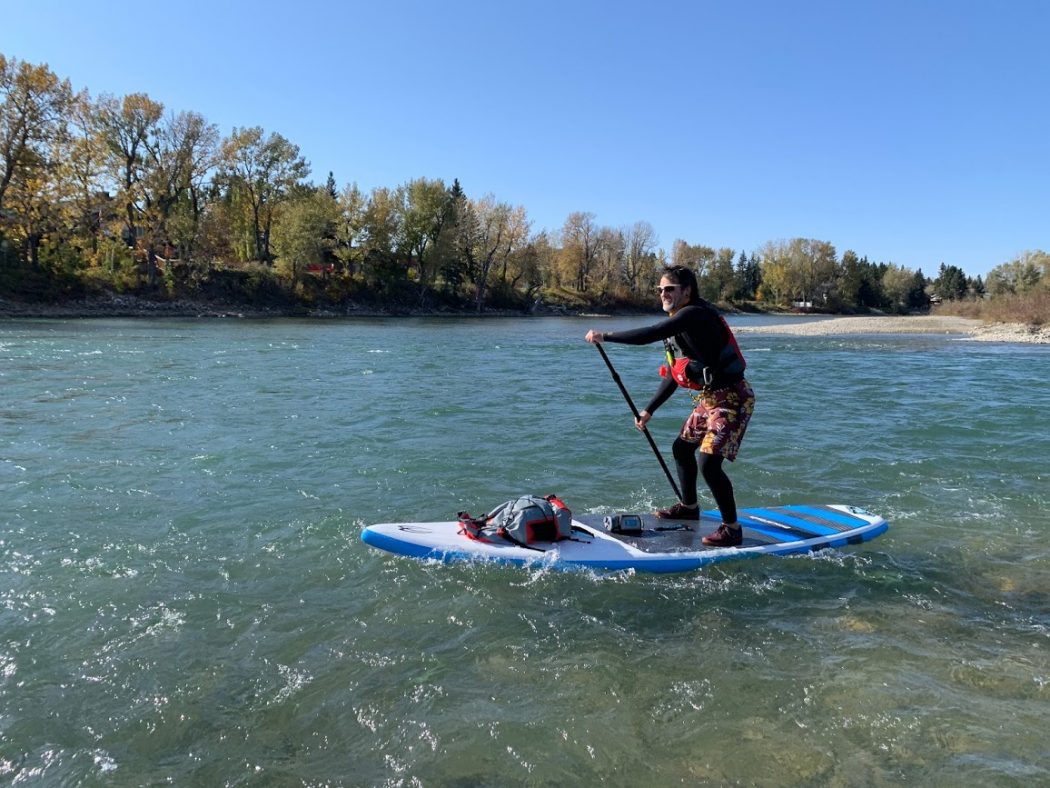 Outdoor Gear Maverick – Interview with Jay Hay
Tell us about your journey from working at Spirit West through to owning the Patagonia store in Calgary.
I started climbing when I was 19, took my first lessons through the U of C, and from there overloaded myself with various mountain-related courses and finally decided to leave the big city and go climb full time in the mountains in Banff! So at 21, this is back in the early 90's remember…with the help of my dad, we reconditioned a white 1980 cargo van so I could use it as a camper. I spent the next 18 months living in that beast over the winters. I worked in the local outdoor retail stores to pay for my new climbing habit. I was fortunate to meet up with some like-minded climbers, and we built our own little community. We climbed almost every day for the next 5 years, honing our skills, surviving near-death too-many times to count, and all in all, having an amazing time!
I eventually moved back to the big city in 96 and got a job working for one of the small outdoor retailers in the city. I was fortunate to have a certain talent for selling and a wonderful gift-of-the-gab, so I flourished in an environment that allowed me to sell products I was passionate about, and that also showed me more of that particular industry. I worked my way up to buyer and manager and eventually invested in the business and became a partner. I got exposed to some amazing professionals because of my climbing and outdoor retail associates and through many wonderful buying trips to the states. I got exposed to my idols, like Barry Blanchard, Alex Low, Mark Twight, Reinhold Messner, and not to mention the many local climbers who also inspired me and continued to grow in that industry. Dealing with manufacturers and suppliers on a daily basis.
Over the years of building relationships and developing my management style, I was able to create an opportunity in 2002 along with some partners and investors, and we opened up the first Patagonia outdoor clothing boutique in Western Canada. When we started we had a lot of pushback from people and Patagonia who thought I was crazy to specialize in one brand. In the beginning we didn't get much support from Patagonia corporate, but within 18 months we had proved our value by presenting their product and brand in a way that reflected their companies philosophy and so they eventually gave us the green light and fell on board. Over the next few years we grew rapidly and successfully.
The work was rewarding but stressful, and I learned the hard way that working too hard can break the will, and eventually, that's what happened to me. After having the freedom to climb whenever and wherever I wanted to working full time as an owner I neglected to find balance with life, work, and expectations and found myself suffering from severe depression. So after 5 successful years and a business that had cash in the bank, my partners created an opportunity to buy me out, so I took it and ran.
Your next journey was into the carpentry world.  Tell us about that and why such a dramatic shift from clothing retail.
A year into my sabbatical, my best friend needed help with an expanding Renovation business. The industry at that time was booming, and so we had plenty of work! My friend then decided to pack up and move out to the coast, and I was pretty much left with a Renovation business. I literally fell into it. I had years of experience in the construction industry as my dad was an architect and built 11 homes with four boys over 15 years. Not too mention every summer through high school working as an apprentice on some construction project. And with the expert guidance from my licensed and qualified friends, I developed a well trusted and dedicated custom renovation business called Serenity Ventures Inc.
I ran and operated that business solely till July 2018, finally pulling the trigger on shutting it down as my body started to rebel against the long hours and hard labor. So I packed up the Reno biz, sold my truck and trailer, and became a stay home husband till I could reinvent myself again and heal my broken body.
You recently started up your own backpack company called Jaylife 13.  How did you come up with this idea?
Thus bringing us to Jaylife13. Feb 2019, I was at rock bottom. Here I am at 50, no job, no direction, just floundering. Like most of us, I was not dealing well with the mental diarrhea and stresses I put on myself to find the answers to "what's next".
My wife and I were doing an intensive personal development program at the time, which was fortuitous as it helped me break the mold so to speak on some old habits and limiting beliefs. And I started to write down all the things I love, and that inspire me!
From that experience, I was able to focus and move. Movement being the most underrated activity ever. If you're not moving, you're not going anywhere! I began to focus my talents and skills into new areas of passion and realized I could start again with something completely different while using my years of experience from all these other environments.
What is unique about your product, and why do you see a good market opportunity?
I decided to make a brand and make that brand about me and my life. Hence the brand Jaylife13. 13 happens to be my birthdate and helped create a unique way of giving my brand some distinction. The brand is based on my love for adventure and travel and having the right gear with you always. So I designed and manufactured my own waterproof backpack that could take you from mountain to ocean and from home to office while always keeping your stuff dry and looking good doing it!
I called this waterproof pack "Sensu," which is Latin for sense; thus, this pack just makes sense! It's a play on words, but it resonates and gives me lots of marketing options. Like any new brand, the biggest hurdle to overcome is brand awareness. Nobody knows who or what Jaylife13 is, so getting on the social media and Amazon bandwagon was the only way for me to start. And given my years of experience in traditional brick and mortar stores, I've gone from retail to e-tail!
I believe I've created a product that is versatile, practical, stylish, and functional without giving up on form or function. Inspired by my outdoor retail days I definitely have a keen eye for style and function and how they work together. Having a good understanding of fabrics and construction technics I was able to bring a concept to the table that I think folks will just get. They know what waterproof means, and they know when they don't get it. I've had enough skeptics try out my pack after rolling their eyes when I say it's completely waterproof to know I can't use that term unless it's true. I recently had a friend (Sue Slaght) do exactly that's, and she ended up writing a blog (www.traveltalesoflife.com) about how amazing my pack is and how it keeps everything dry. I promise!
We launched Jaylife13 and our Sensu waterproof pack in three colors, Sunset Red, Marine Blue, and Camo, on July 12 of 2019, so from concept to design to build and supply, it took just 6 months. Our pack is on Amazon and available through our website, and we continue to grow our awareness and brand recognition. I am continuously building and enhancing my online presence and relationships with the help of key people like Karen Ashraff from Kofunction. Karen has been instrumental in helping me understand and take advantage of the nuances of social media. Keep in mind I didn't even have a Facebook account until November 2018, so all this is new to me, but I get better at it and more comfortable with it every week.
My wife and partner is my biggest supporter and helps keep me on track with her unconditional love and support and her money! Not too mention the wonderful ambassadors and many friends who have tested and bought my pack. So to all of them, I say thanks for believing in me and supporting my new venture!
What are the main challenges of getting a new product accepted by the marketplace?
Selling on Amazon is a new challenge as I have to understand how the algorithms work and how to take advantage of all the leveraging tools, yet we continue to grow, and that's all we can do.
As I continue into my fifties, I am finding more sports and adventures to try. I'm totally stoked on white water paddleboarding, which is also an amazing sport for my Sensu packs. We'll be traveling to Colombia this Christmas, so we'll have another opportunity to test the packs in real-world scenarios, so hopefully, we'll be able to report on another great adventure.
So for me, keeping active every day, moving in a direction I want to go regardless of how I feel and living authentically and in balance is what I'm trying to do. I'm not always successful, but I'm always moving forward.
What brought you joy this week?
What bought me joy this week was raking the leaves on a warm fall day, piling them into a big pile only to have Mother Nature blow some wind and spread it back all over my lawn again. I couldn't help but laugh. It reminded me of the saying, 'if you want to make God laugh, just make plans'. I guess the moral of that story is, no matter how prepared you are or what you've done, it only takes a gust of wind to throw you off your path, but what you do after that is what counts.
So here's to the next adventure, and you're all welcome to come along for the ride.
Live long and Prosper.
J