Travel Is Oh (No) So Simple
On our latest trip (Calgary to Phoenix) I have created some made up names that hopefully help capture the comedy of travel despite all of them being 'first world problems'.
Early Ernie:
We have a chap that handles our airport runs, but on this day he sent a new dude who apparently wanted to make sure he was not late.  The new lad showed up fifteen minutes early which adds some stress as I am normally trying to get a few last minute things done and especially in this case at 6:45 in the morning.  He waited in the car for a few minutes and then sauntered into the yard in minus 29C weather with our dog barking at him which woke up everyone from Tuscany to Midnapore.
Loading Lonnie:
The automated Westjet check-in and loading machines were not working properly despite turning my luggage and bag tag fifteen different ways.  If nothing else it was a good work out.
Nexus Nellie:
Have the Calgary airport Nexus machines every worked properly?  Half the machines had 'Out of Order' signs on them, and half of the remaining machines were not working, so it was like Russian Roulette to find one that did work.
Loading Laura:
The wife booked both of our tickets at the same time, we are both Silver Tier members, yet she was assigned Zone 2, and I was assigned Zone 3.  I have only flown Westjet a few thousand times, so apparently, there is no reason that I should have any sort of boarding privileges.
Purse Patricia:
Why is Patricia on every flight, sauntering down the aisle, swinging her purse into everyone's head, with no cognizance that she has just caused seventeen concussions en route to her seat in Row 118?  Let's get her permanently booked in Row 1…just sayin.
Slingshot Sally:
This is my favorite…NOT.  I just got nicely settled into my seat and then as the gal in the row behind me had to get out of her seat to let someone in beside her, she grabs the top of my seat, pulls herself up with all her might, and slingshots my headrest (and my head) towards the cockpit.
Kicking Kiddie Kathy;
The little kiddie behind my wife was only kicking the seat in front of her for two and a half hours of the three-hour flight before momma finally caught on and said 'please stop that honey'.
Westjet Wallie:
Normally Westjet has some of the best stewardesses (and stewards) but on this occasion the 'older chap' we had serving us was more concerned with zipping thru his delivery of water, peanuts, and pretzels in time for him to get to the back of the cockpit for a nap.  Perhaps he was on loan from Air Canada.
Depthcharge Debbie:
Just when you think you are on the home stretch of the flight and are patiently (sort of) waiting for people to deplane, all of a sudden I had a suitcase dropped on my head as the overzealous lady behind me did not have the strength to pull her bag out of the overhead compartment and safely down to the floor.  She graciously said 'oh, you have another head, don't you…ha ha'.  I was too stunned to say anything witty like 'are you an f'en idiot'.
Luggage Lucy:
This is always one of my favorite parts of the travel experience and one that I will eventually solve with an invention I am working on.  You saunter down to the luggage rack knowing that your luggage will be delivered within a narrow 15 to 60 minute window.  As I approached the belt and strategically picked a spot near where the luggage comes up the belt, Lucy was there with two bags beside her and dancing back and forth which effectively took up the space of four people.  When my luggage came out, I politely said 'excuse me' and gave her the Gordie Howe elbow as I maneuvered my way by her.
Suitcase Sammie:
Off we went to the rental car bus.  As I loaded mine and the wife's luggage, a chap beside me who must have figured that this was the last rental bus to ever service the airport (it was 2:30 in the afternoon), pushed his way by me to load his suitcase in the spot that I was hallway thru loading our suitcases into.
Hertz Henry:
Since we had prebooked with Hertz using my Gold Preferred Status, we avoided any lengthy lineups.  As we approached the cars in the parkade, the Hertz attendant indicated that we could choose 'any' vehicle from the All-Star section of vehicles.  I was looking forward to choosing a decent SUV, but all I could see was trucks upon trucks.  Eventually, I came across two SUV's that seemed appropriate but one had a 'no keys' sign on the driver's side window, and the other one had a 'damaged' sign on the driver's side window.  As I backtracked toward the attendant, I found two upscale SUV's but upon trying to secure them the doors were locked, and they had 'RESERVED' signs on them.  Ultimately we ended up finding a 'world-class' Kia with a bunch of scratches and dings on it which held up four cars behind us at the exit gate as we had to note all the deficiencies before we finally got on the road to our host's abode.
Butter Bentley:
It was so nice to get the travel issues behind us and relax over a nice meal with our long time friends.  After 'mostly' cleaning up after dinner we all went for a walk to check out the area they live in.  Upon our return, we noticed we had left a bowl of butter on the table however the butter was no longer in the bowl.  Their dog Bentley decided to 'butter himself up' by climbing onto a chair and then on to the table for a late night snack.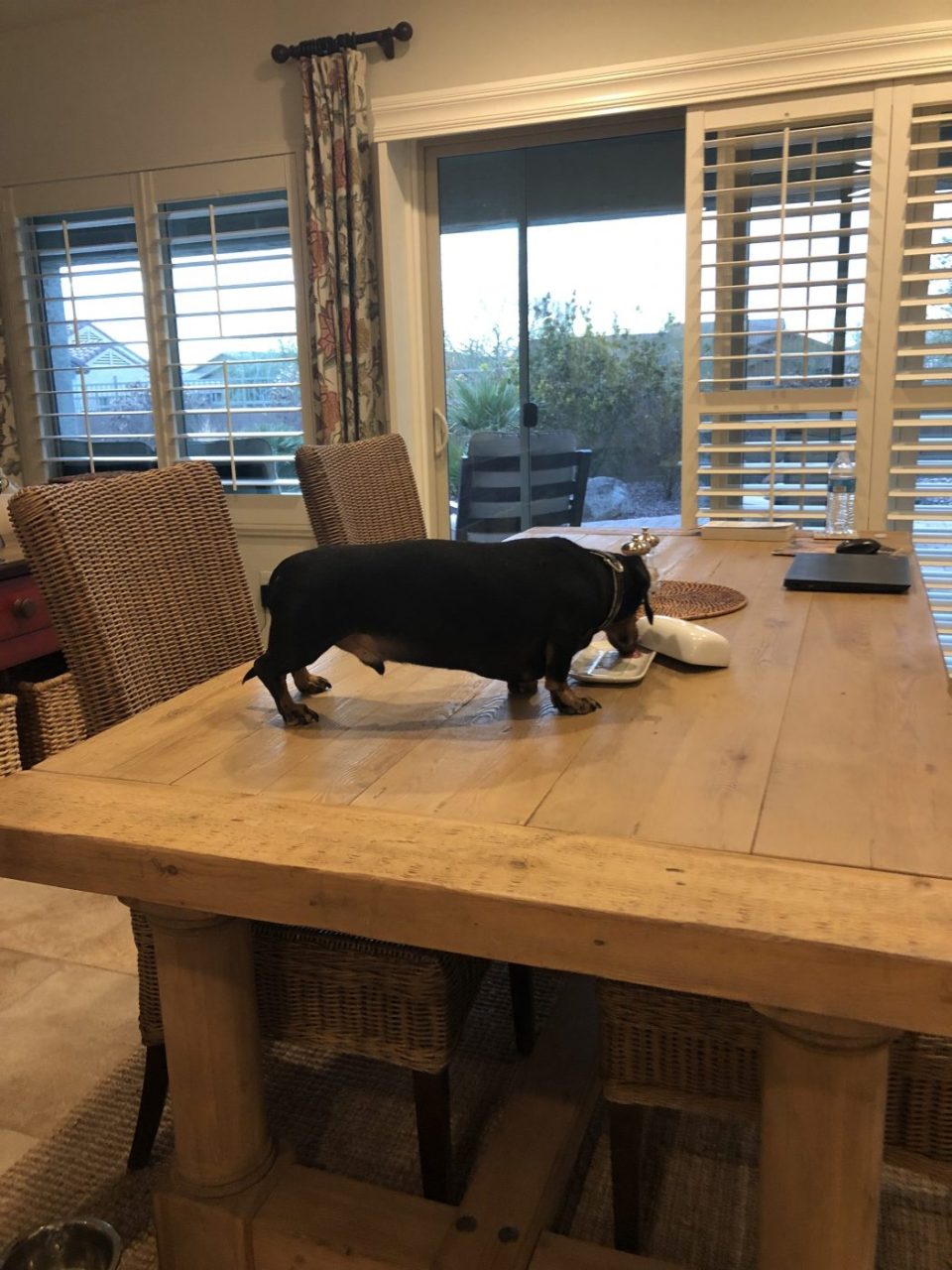 I can't understand why some people don't like to travel when things are so simple………..