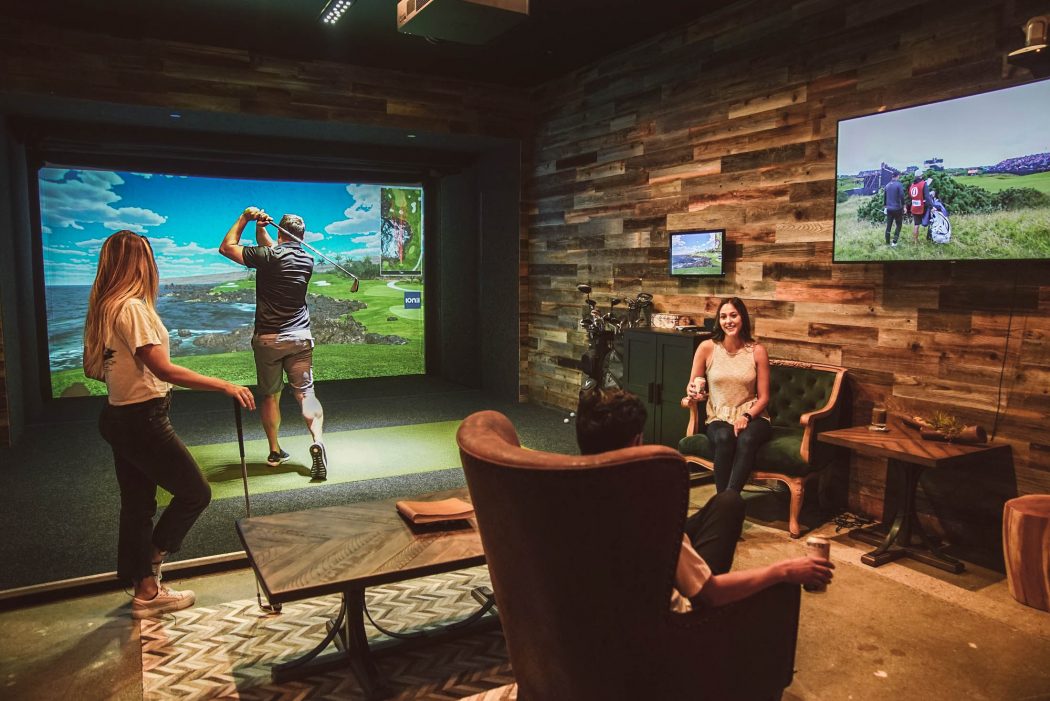 The Growth And Potential Of Golf Simulators
Justin Lukacs, of Golf Reimagined, explores the explosive growth in golf simulators.
2020 brought a surge in popularity for the entire sport of golf. Most of this upturn can be attributed to the Covid-19 virus, making golf one of the only organized sports available to play. However, behind the scenes, there was another trend that was contributing to the return of golf, even among self-proclaimed non-golfers. Indoor golf simulators are paving the way for courses all around the world by extending the typical five-month season to a year-round offering. The benefits to having a golf simulator don't just apply to the revenue of golf courses, though, as even home simulators have been shown to improve one's golf game. The improvement of the tech behind golf simulators has made it not only an entertaining way to spend 2-4 hours but also a useful tool to improve technique and skills for golfers.
As golf courses look for more ways to extend their seasons, golf simulators have shown to be the perfect answer. While many courses have purchased golf simulators in the last year, the bulk of purchases were made in the Northeast and Midwest of America, and all over Canada. These places have shorter seasons due to their climate and adding a few simulators now means they have potential business year-round. Obviously, increasing the number of months of potential business leads to more revenue, and with the Covid-19 virus bringing an influx of new golfers to the game, this could be a winning combination for many (previously) struggling clubs. The National Golf Foundation estimates there are roughly four million golf simulator users across the U.S. and half of them have never played on a golf course. Simulators attracting non-golfers is further evident by their presence in the golf entertainment industry. Simulators are a widely used addition to venues like TopGolf, Drive Shack, and Popstroke (among many others). At many golf courses simulators are accompanied by food, beverages, and TV's. Coupled with the ability to play famous golf courses from around the world, the entertainment value of simulators is very apparent.
Golf simulators go beyond just entertainment value, though. While the popularity of simulators has been rising, so has the tech behind them. The accuracy of these devices has increased exponentially over the last few years and companies like Golfzon and Skytrack are leading the charge for realistic indoor experiences. Golfzon has 30,000 units around 62 countries; it boasts a hydraulic play mat that mimics the landscape of the golf course you are playing, a ball replacing system, and real-time ball flight with zero time delay. The Golfzon system is also completely scalable, making it the perfect fit for the clubhouse and for home. Even smaller home versions of simulators can track stats and swing analysis, lending to their power as a teaching device. TrackMan's digital radar system can give instant feedback on shot shape, ball speed, launch angle, spin rate, carry distance, etc. This is why people around the world are using this technology to elevate their game. TrackMan claims that 87 of the top 100 PGA players have purchased their simulator system. More portable systems like SkyTrack and Full Swing can be easily installed in a home and offer similar feedback data at a lower cost. So, what are the best options for golf simulators?
Golf Digest gives a list of the best golf simulators, looking at the highest quality of these devices and providing a look at some of the top of line options:
Golfzon Vision Premium – starting at $46,000 USD, this is truly the premium option for simulators, has several unparalleled features and over 190 of the world's best courses.
Foresight Sports – starting at $10,150 USD, their 'sim-in-a-box' kit allows for easy assembly while providing a full luxury experience with the ability to play other players online.
SkyTrack – starting at $1,999 plus $100 per year for software, the best value of the simulators, this portable system has established itself as the industry standard with the ability to play 150,000 courses (including courses made by users).
Full Swing – starting at $39,000 USD, the multi-sport option for simulators, this system comes with 13 other sports, providing a diversity of practice and entertainment.
Golf Span took it a step further with an intricate look at the best simulators for home and commercial use. Ranking the top 5 home systems and the top 4 commercial ones, Golf Span provides an in-depth review of their picks with pros, cons, measurements, set-up, and further details dependent on the individual packages. While I'll simply list them below, the full article can be found here – https://www.golfspan.com/training-aids/best-indoor-golf-simulator
Best Home Simulator Packages:
SkyTrack HomeBay® Golf Simulator Studio
OptiShot 2 Golf in A Box
Phigolf Mobile and Home Smart Golf Game Simulator
Zepp Golf 2 3D Swing Analyzer
Rapsodo R-Motion and The Golf Club Simulator and Swing Analyzer
Best Commercial Simulator Packages:
TruGolf Vista 12 Pro Golf Simulator
SkyTrak SIG12 Golf Simulator
Full Swing Pro Series Golf Simulator
Golfzon Vision Premium
In my last article, I focused on the popularity of golf in South Korea, where watching LPGA tournaments is a common pastime in many households. Due to the population density in the country, more people play on Golfzon simulators than on the course. In fact, it became the only country to play more rounds on the former. Golfzon locations across South Korea outnumber Starbucks locations 5-to-1 at 5,756. The use of technology and competitive structure in the country has led South Korea to dominate the LPGA and raise the popularity of the sport across the middle class. The appeal of golf simulators spans more than one facet of the golf game. These devices provide opportunities for everything from entertainment to practice and has undeniable potential to increase revenue by extending the traditionally seasonal offering and catering to a wide demographic.

References:
https://www.golfdigest.com/story/field-and-screen-indoor-golf-south-korea-we-give-it-a-try
https://www.golfdigest.com/story/best-golf-simulator
https://www.espn.com/golf/story/_/id/29141771/how-technology-getting-golfers-tour-pros-regular-hackers-pandemic
https://business.golfnow.com/knowledge-base/library/rising-popularity-golf-simulators
https://www.golfzongolf.com/smart-finder/step2
https://www.linksmagazine.com/golf-simulators/
https://www.golfspan.com/training-aids/best-indoor-golf-simulator