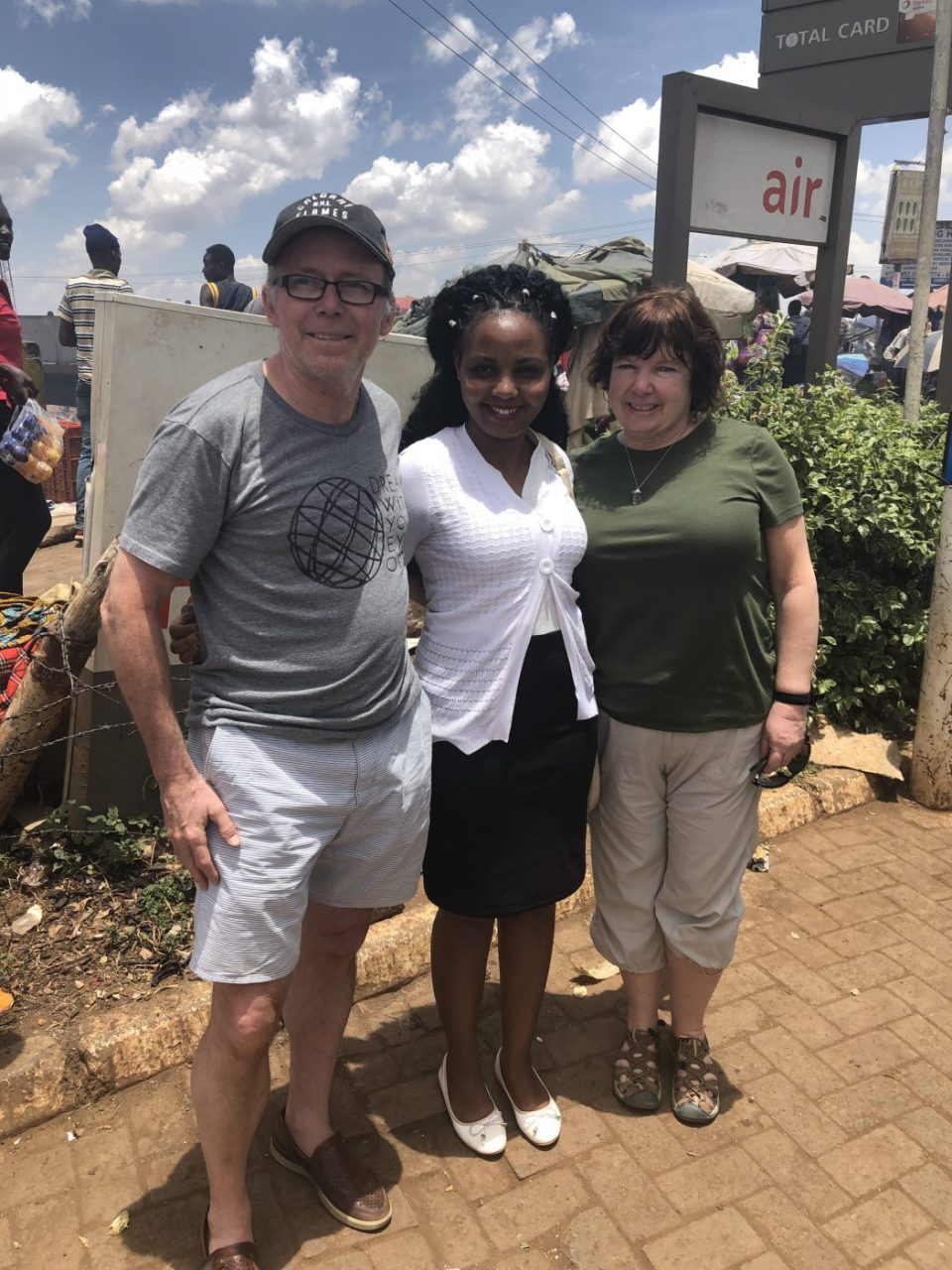 Kenyan Orphaned Child's Successful Life Journey
My friend, Matt Palmer, was part of a documentary team for a project called Keeping the Circle Strong which was organized by staff and students at the Fred Seymour Elementary school in Calgary.  The film, Letters from Litein (www.https://vimeo.com/34693758), was done in 2006 and the school raised $50,000 for the orphanage in Litein Kenya.
We were traveling to a similar part of Africa and Matt connected us with one of the students (Mercy) that he has maintained a relationship with.  Despite only being able to coordinate a brief ten minute meeting on the side of the highway on the outskirts of Nairobi, we were able to connect via email for this lovely young lady to fill us in on her life journey.
Tell us about growing up in an orphanage. 
It was in 2000 when I found myself at AIC Litein Children's Home (Kericho).  At that time, I was 5 years old. That's when I started my nursery School.
The treatment there was fair. We wore clothes from the well wishers and or from the church. But the clothes were weary.
We had someone who could help us wash our clothes when we were young and bath us.  We usually had evening devotion from 7pm-8pm.  We also had evening preps from 8pm-10pm  and sometimes had morning preps from 5am-6am whereby we could study.
I loved to have long hair but irrespective of the gender we all got short hair.
We had duties divided to each one of us whereby everyone had a specific duty to do.  We could exchange the duties the next day for us to balance ourselves and to be fair.
We never got to celebrate our birthdays.
We went to Litein primary school. I was there from class one to class six.   Everyone in school would stare at us. All the students and all the teachers could identify us from the orphanage because we used to sing in the assembly and we used to be together as a family when it was break time.
We used to play, sing, dance and pray together at home.  On Sunday we went to church and led in the church choirs.
It was a nice experience being in an orphanage.  I missed out on some things like parent child, talk like advice and girl talk by parent, but we got some of these teachings in school.
Do you stay in touch with any of the kids from the orphanage.
We are still in touch with my colleagues from the orphanage and in fact we created a WhatsApp group, so we communicate there as one. And if maybe one wants to call someone and has no phone numbers he/she can just pick from the group.
Do you know who your birth parents are.
Actually my birth parents died when I was young. My mother died when I was 2 years old due to some illness. My father died when I was around 4 years old, I guess due to old age.
Tell us about the experience of meeting Matt Palmer and the kids from Fred Seymour school back in 2006 for his documentary 'Letters from Litein'.
Matt and the team from Calgary, Canada and the kids from Fred Seymour school visited us in 2006.  It was  a nice experience being with them.
They brought us lots of things like books and sporting materials. Matt and I were close and he would read me story books, play with me, I could walk him around the compound, come to our evening devotions and even walk me to my bed.
When they went back we could write them letters as they replied.  With the kids from the elementary school I don't have any contact with them.
Do you stay in touch with any of the kids from Calgary.
Matt and the team travelled back home and after some time, I was transferred to a private school called CHEMITAN Academy. That's when I was in class six. Matt Palmer with other sponsors, sponsored  me in that private school until I was through with class eight. I joined high school from form one to form four (these are similar to grades 9-12 in Canada).
What did you take in college and why did you take this program.
After high school I joined college in Eldoret.  I took community development and social work as well as community health.  I took this program because I wanted to give back to the community.
Who do you work for and what is your role.
Currently I'm working in a company called IPSOS SYNOVATE. IPSOS is a research market company which deals with different kinds of projects. I work there as a research assistant in field work or as a researcher. That's my role there. But it's a contract.
What are you most proud of in your life.
I'm most proud having been brought up in an orphanage and getting to meet these people from Canada. Especially Matt Palmer and Brenda Zugman who supported me in school. It's because of Matt that I went to a good private school in primary level.  And now I'm who I am because of him. And Brenda helped me pay my school fees in college. It's because of her that I completed my college studies.  I'm most proud of Matt and Brenda, but mostly Matt Palmer.
What do you hope to do in the future.
I hope that I can get a better job, save some money then give back to the orphanage where I came from and I also hope to visit Matt's family in Canada some day. That's what I long for. To go to Canada to spend some time with their family.
What brought you joy this week.
What brought me joy this week is meeting with Matt and Jennifer's friends from Canada.  It was nice seeing people from Canada again after a long time.  What's more interesting is meeting with the people you have been talking to but never seen and seeing them for the first time.  Another thing which brought me joy this week is that I got a one week research contract job.