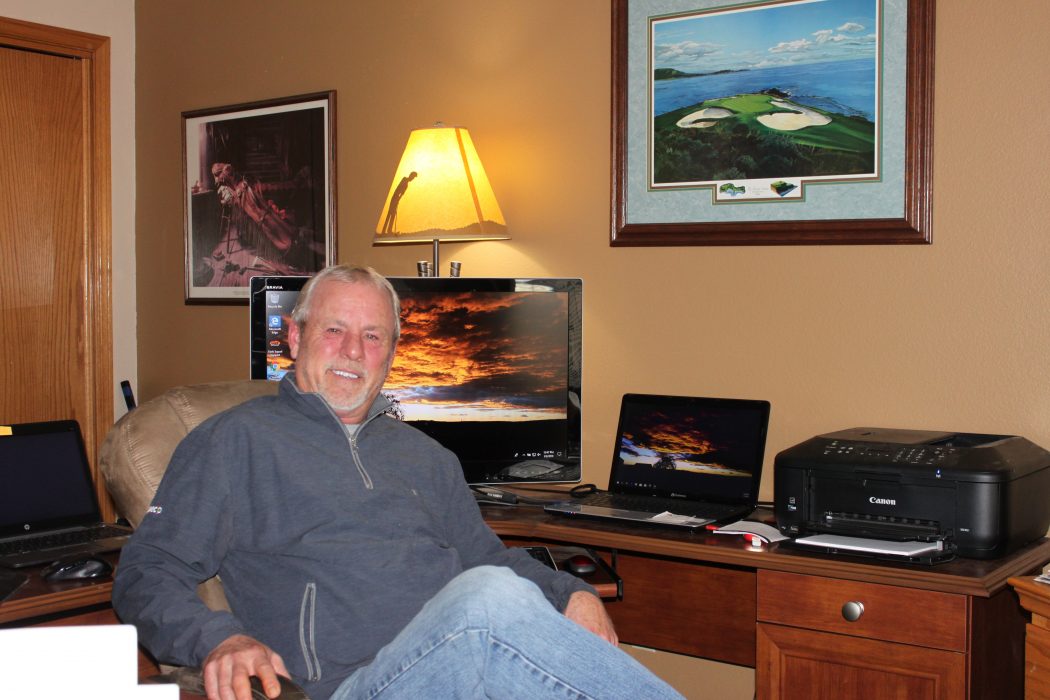 Fun stories from a fun dude
In my forty years in the petroleum business, I was fortunate enough to meet hundreds of amazing people, but some people stand out in the crowd.  One such person, Zack Torkelson, is a chap that I had as a customer and also worked with for a few years.  Sit down with a large glass of your favorite drink, and enjoy some of his stories.
Tell us about the business you have spent your career in and how you got into it.
I have spent the bulk of my career in the Oil & Gas business.  My dad was a Union Oil Company (Union 76) Lifer, so I essentially grew up around this business and the people in it.
In the Fall of 1985, my dad got a phone call from a former co-worker of his at Union 76 by the name of Paul Dennis.  Paul had left Union 76 and bought a fuel jobber in Everett, WA.  He told my dad that he and 3 of his buddies were starting a new business that involved this new idea (at the time it was new) of Pacific Pride cardlocks.  He asked my dad "so what is your boy doing these days?"  My dad mentioned it to me, and I proceeded to have an interview with Paul and one of the partners (Len Lightburne).  They agreed to hire me that day, and at the end of the interview, Paul Dennis pointed at me and said "LISTEN.  Just because your dad and I are friends, doesn't mean that I won't fire your ass!"  Len jumped in with "holy crap Paul – we just hired the guy, and you are already preparing to fire him?"  Anyone out there that happens to read this and knows who Paul Dennis is, will know that this was just Paul being Paul.  My start date was Dec. 3rd, 1985, and thus a company named Petrocard was born in Everett, WA!
I was the sole employee for nearly 2 years, typically working 16+ hours a day, doing A/R, A/P, customer setup, sending fueling cards, invoicing, and was even doing fuel nozzle and hose repair – sometimes in the middle of the night at the two cardlocks we were then operating.  We were selling approximately 50,000 gallons per month.  I guess this really defines the term of "getting in on the ground floor."
The 4 original owners would eventually sell Petrocard in 1997 to an investment group out of Alaska.  At that time, as I recall, we had 7 or 8 cardlocks and were selling approximately 2 mm gallons per month.  Those initial 12 years were very fun and rewarding, watching/helping a business grow from its infancy to its current state.  Without getting into the details, the next 10 years would be very challenging and stressful under new ownership – an ownership that had no experience whatsoever in this industry.  The President/CEO they put in place, was a lifelong Banker.  After year 1 under new ownership, Brandi (my lovely wife) told me I needed to quit.  She saw that the stress was taking its toll.  As the SVP, I would go on to stay another 9 years as I felt 100% responsible for protecting the Petrocard employees from the effort of the new ownership to reduce benefits, raise premiums, etc.  In May of 2007, I had run out of steam, and walked away after twenty-one and half years.  At that time, we had 65 cardlocks and as I recall we were pushing nearly 20 mm gallons/mo.  Since that day, Petrocard has gone through, I believe, 4 different President/CEO's, but is still a thriving cardlock business now headquartered in Kent, WA.
I won't bore anyone with the details since that time, but I have never left the Oil & Gas business and currently work as a Manager of Wholesale Business Development and Marketing (Western U.S.) for Pilot Flying J.
What do you enjoy about the business and would you recommend it to kids coming out of school.
Quite simply, I enjoy the fact that every day you wake up, could be an entirely different day than the one before.  Markets can crash, they can skyrocket, you just never know.  However, this can be a challenge as well.  The challenge is figuring out how to be successful and profitable no matter what the market throws at you that day.
I also enjoy developing new relationships and maintaining prior ones.  Business Development and Marketing is all of that and then some.  As for recommending it to kids coming out of school – it really is going to depend on the kid, and what they are looking for.  I stumbled into it, which quite honestly, I think lots of people do.  You can go to school to be a Lawyer, or a Doctor/Nurse, or a Teacher, but you can't necessarily go to school with a plan to be in Oil & Gas.  Many have asked me over the years – including my own boys – "how do I get a job like yours?"  Quite honestly, I don't have the answer to that.
I have always enjoyed the Oil & Gas business.  20/20 hindsight, and other than maybe Professional Golf, there is really nothing else I would look back at and say to myself "man, I really wish I had done that instead."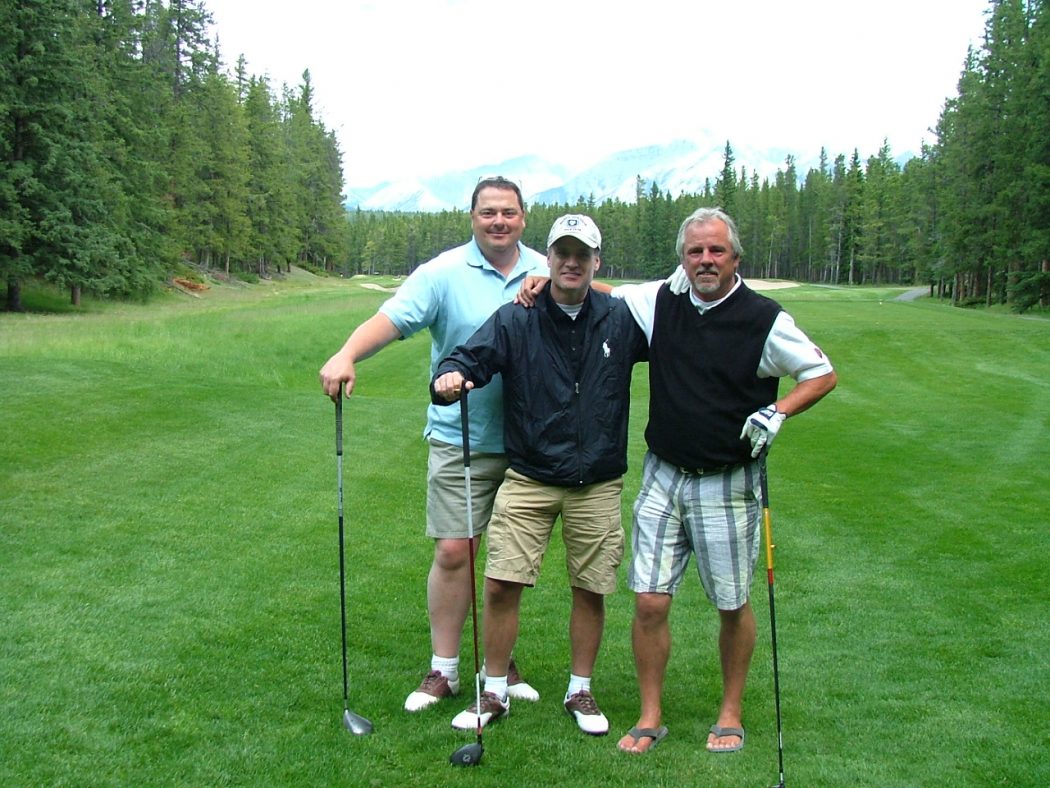 You are known as one of the top golfers in the industry, and you have a special type of golf shoes that may be your hidden secret.  Tell us about those and do you expect to be on the cover of Golf Digest some day…ha ha.
I have been playing golf since my father got me into it at age 8.  I don't know that I qualify as one of the top golfers in the industry (as you put it), but I do like to play and always have.  It has been a part of my life now for almost 52 years.  You had specifically asked me about my "golf shoes".  Up until April of 2009, I was just like every other golfer, just wearing the regular golf shoes.  In April of 2009, I made a "boys trip" to Puerto Vallarta with several of my buddies for my 50th birthday.  On our first morning at the course while preparing for the round, as usual, I removed my flip flops (it is Mexico after all), put on my socks and golf shoes, and we were off.  I proceeded to double bogey the first hole and was rather unhappy about it.  On the 2nd tee box, I turned to my cart partner and said "if I am going to play sh*tty golf today, I am at least going to be comfortable and enjoy myself."  That is when I removed my golf shoes and socks, and put my flip-flops back on.  I proceeded to go even par over the final 17 holes, thus the dawn of a new era began for me.  I have played in flip flops ever since (weather/rules permitting).
When you have golfed this many years, there are umpteen moments/rounds that are quite memorable, however, what I would consider my most memorable round, came in September of 2012.  A friend of mine and I decided to fly over to Seattle for the Seahawks/Packers Monday Night Football game on September 24.  We also were incorporating a round of golf the following day – then flying home that afternoon.  Given the short trip – landing, taking a cab right to the stadium, then to hotel, then golf the next morning, we didn't want to deal with the hassle of toting our own clubs over.  We secured a tee time at Chambers Bay for Tuesday morning – the home of the (then) upcoming 2015 U.S. Open Championship.  I had my flip flops with me, but that was it.  We rented clubs and were joined by 2 young fella's in their 20's that worked at Chambers Bay, and completely looked the part of being "golfers", and as it turned out, they were good players.  On the first tee box, when introducing ourselves, my buddy and I certainly didn't "look the part."  Rental clubs (Taylor Made R-7's – which were outdated even then), pull carts (there are no riding carts at Chambers Bay), and me in my flip flops and dockers.  I apologized to them on the first tee, explaining the situation.  Turned out that they had to quit after 14 holes to get back on the job, and one of them turned to me and said "I don't know how you're doing this, or who you are, but just keep doing it!"  I ended up shooting a 4-under 68 that day, on what I consider a very difficult golf course, without my own clubs.  I tried to buy those rental clubs, but Chamber Bay wouldn't sell them to me.  Needless to say, I kept that scorecard!!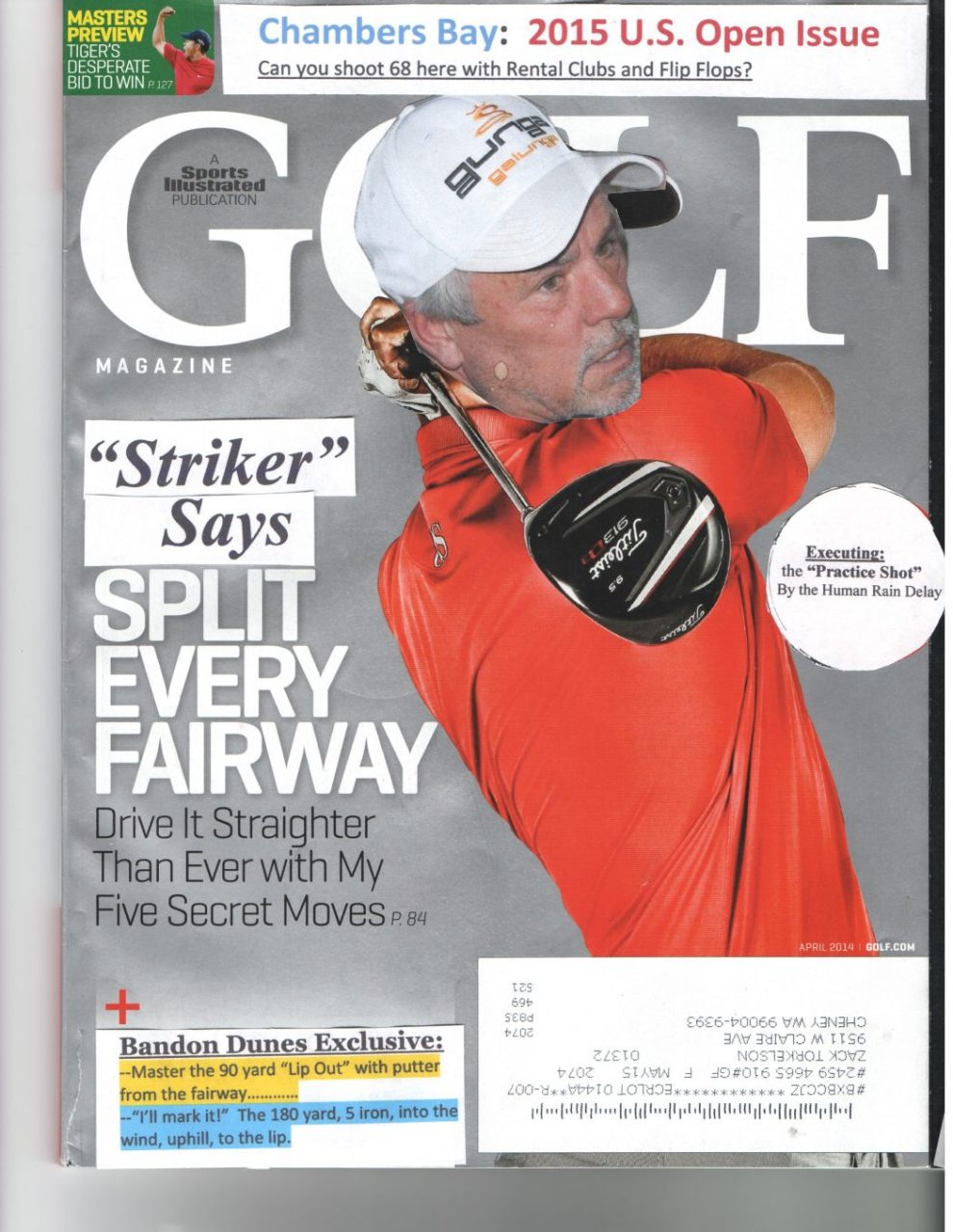 When we worked together, you came up with a very unique gift called the 'FLOP' that you presented to me and a coworker at our annual Xmas party.  Tell us how the idea came about.
As you will recall, there were multiple emails back and forth regarding the party, the festivities, and the travel all in an effort to prepare me (the new guy) and my lovely wife Brandi.  During that time, I was paying rather close attention to the weather forecast, which appeared as though it was going to be rather chilly.  I was asked to come prepared and dress warm, to which I responded with "I will make sure and pack my Fur Lined Jock Strap."  At that point, just you and I emailed back and forth about this subject, to which eventually you said, "If you can get me one of those too, make mine an XL."  When I passed this information on to Brandi, her creative juices kicked in, and she told me we should actually make one.  However, I wanted to come up with an official acronym, as FLJS (Fur Lined Jock Strap) just didn't cut it for me.  I eventually came up with FLOP as the acronym, meaning Fur Lined Oval Protector.  At this point, I went silent with you as to our next steps.  We proceeded to purchase an XL Jock Strap and XL "Cup" to insert, then went to the fabric store, picked up some "Fur" if you will, and Brandi sewed it on this item.  The XL FLOP was now complete.  However, since you were supposedly the XL, we just thought there needed to be a 2nd person involved that was NOT an XL.  Brandi grabbed a few small items at the fabric store to create our own XS FLOP.  When this was done, rest assured, this little marvel wouldn't cover much on a new born baby, let alone an adult.  As the new guy, I was asked to stand up and say a few words about joining the new team at ERM, etc. which I did.  BUT, I had decided discreetly ahead of time, to present both of these FLOP's in front of the entire party.  You were the first one called up, all the while having no idea what was going on.  I had also decided that the person receiving the XS FLOP had to be carefully chosen.  Thus I chose Mattie – the young, good looking, single kid that just by total coincidence, was heading off to Mexico with his buddies that very next morning.  Perfection!  Once you were both standing up with me, I filled everyone in on some of the original fur lined jock strap communications, especially focusing on the XL comment from you.  You were presented the XL FLOP first, to a much anticipated roar from the crowd.  Then I presented Mattie with the not so XL FLOP – which needless to say, got a deafening response.  And when you put it on over your slacks – it was priceless, to say the least.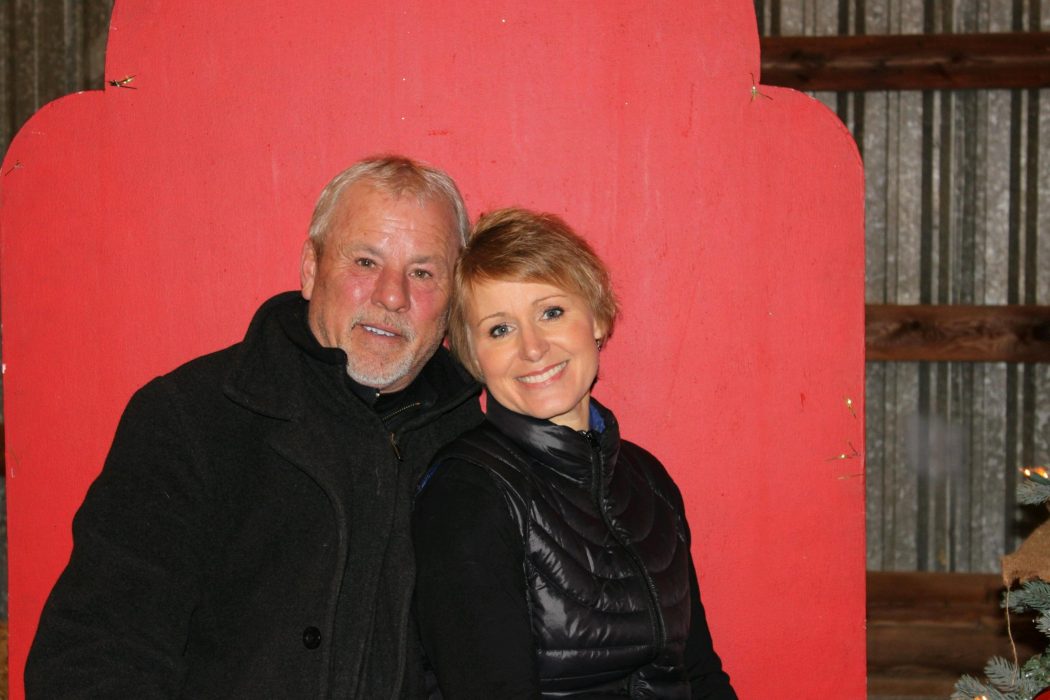 You and your lovely wife, Brandi, have a side business on your property just outside of Spokane.  Tell us how this idea came about and what services you offer.
After transferring to Spokane in 2006, Brandi and I spent a countless amount of time trying to find what we were counting on being our dream home.  Our list of Pro's & Con's was a lengthy one, to say the least.  We were dead set on being picky, and our Real Estate Agent figured that out early on.  If he got tired of us, he certainly didn't show it or mention it.
In August of 2014 a property came up for sale, and by its description, I told Brandi we needed to tell our Agent about this one and set up a visit.  Long story short, from the moment we drove up the 600′ driveway, and walked in the house, we knew this was the place.  We checked off all of the Pro's but one (the laundry room just isn't as big as we wanted).  We closed the deal the first week of September and started the always painful process of moving.
With just 2 of our 5 children left at home (18 yrs / 22 yrs), we knew we would be empty-nesting it quite soon.  Brandi's original thoughts for down the road were to have a Bed & Breakfast, and this house fit the bill.  7 BR, 4 BA, and 4,800 Sq. Ft. and 5 additional out-buildings/barns on 10 acres, but also surrounded by 1,000's of additional acres of farmland (I thought as we grew older, we were supposed to downsize).  However, with both of us working full time, and my travel schedule, a full-time B&B was not quite in the cards.  Brandi works in the Cheney (WA) school district and in the Summer of 2015, her fellow teachers voted to hold their "end of the school year party" at our place.  It was during this party that one woman asked if we ever thought about having weddings here.  Our puzzled look gave it away, and we just more or less ignored it.  Over the summer, two more women asked Brandi the same question, one of which had a daughter getting married in June of 2016.  Shortly thereafter, Brandi and I discussed it and the new game plan was on.  The simple way we looked at it was that one wedding would likely bring in what might take 20 or 30 nights of a B&B – AND, we wouldn't have to make the beds!!
That Fall, we committed to Brandi's friend that we would have the place ready for her daughters June wedding (we had no idea if we could pull this off).  The barn we chose for the inside portion of the venue was a 40′ x 80′ pole barn, with no electricity to it whatsoever, and a 100% dirt floor.  We struck a deal with the bride-to-be's parents, as we had learned that the Best Man for this upcoming wedding was an electrician.  We agreed that they could have full use of the property and venue for the wedding if the Best Man wired our building the way we needed it to be done.  We all shook hands and away we went.  Prior to the wiring being completed, I had gotten estimates and hired a team for the upcoming concrete work that needed to be done as well.  Wiring was completed in April, and concrete was poured in May.  The wedding in June went off without a hitch (well except for the weather), and that wild idea we were asked about had now become reality.  It works out great, because it is weekend work, and does not detract from our full time jobs.  We are officially licensed with the state of WA as a Entertainment Venue under the name "Fox & Goat Ranch."  You can find us at www.foxandgoatranch.com and also on Facebook at foxandgoatranch.
Fox & Goat Ranch?  What?  So, during the ever so laborious house hunting process mentioned above, I was frustrated, tired, cranky, and the kids were being obnoxious.  I told Brandi that I was not going to make the drive back to the lake that day, but rather I was getting us a hotel for the night.  Her comment back to me was "Fine!  But when we finally find our place, we are going to call it the Fox & Goat Ranch, because I'm a fox and you're just an old goat!"   It stuck!  I've tried to twist this story whereas I am the sly fox and she is the stubborn goat, but it never flies.