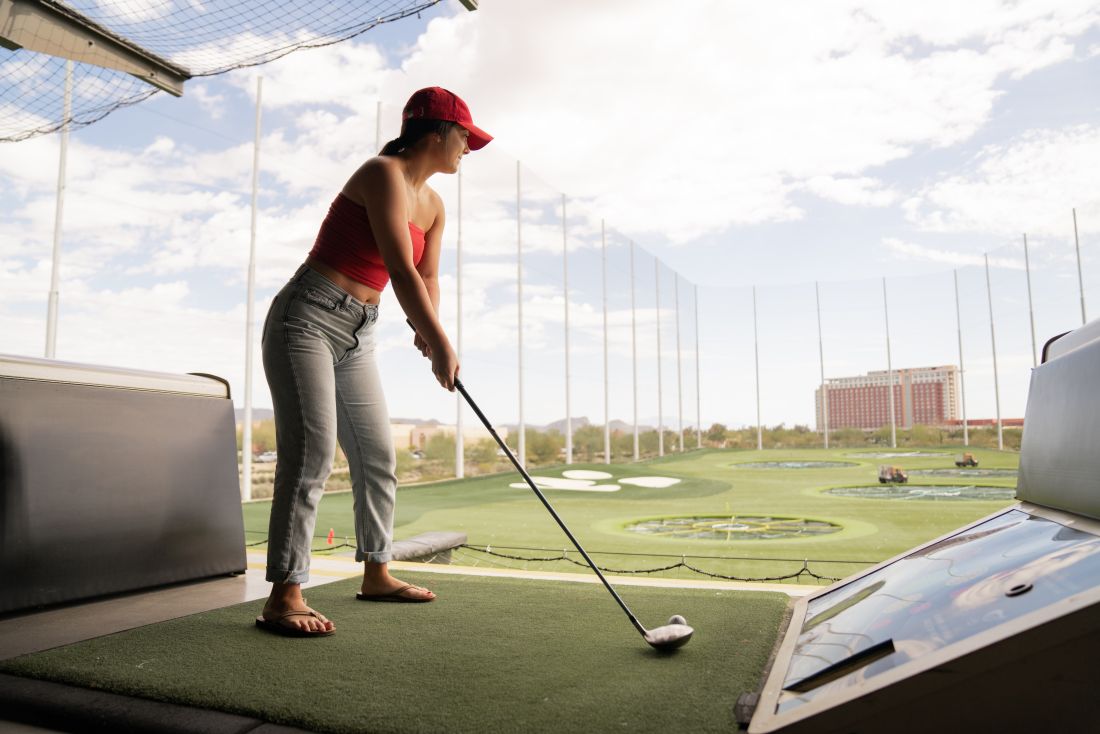 Covid Changes to Golf
It is no secret that Covid-19 has forced many businesses and industries to change how they provide their offerings. From health and wellness to the service industry, we have already witnessed many changes to the "normal" operations of many places. While there have been plenty of industries that have seen a negative impact on business from the virus, there are also a fair number of businesses that have found opportunities through these tough times. The golf industry is one of the best examples of this opportunity. Being one of the only organized socially distanced activities, it was acceptable that golf came back as an offering relatively early into quarantine season. This didn't happen without some necessary changes, however; in this article, we will take a look at some of the more interesting changes golf courses have made to the golf offering, and what the game might look like moving forward.
Early into reopening, many golf courses would only allow two people per tee time to maintain proper social distancing. On top of this, the tee times were usually spaced out. This meant that there was more time during the round, two ball started becoming more popular. Each of the players plays two balls throughout the round, some may be familiar with this game type, but it affords more opportunities for practice as you essentially get two tries at each of the holes. This way of attacking the game became rapidly popular with many patrons and a lot of courses have adopted it as a normal routine for golfers heading out for a round. While social distancing rules are still in effect these kinds of game types could become more standard. Will two ball and other game types become the norm for non-competitive rounds?
New game types are one-way that courses have been changing the way they provide the golf offering, but there are a lot of changes clubs are making to the experience that is happening off the greens as well. Copper Hill in Connecticut has taken the downtime as an opportunity to add and improve on different offerings to heighten their overall experience. One of the major areas they wanted to expand on was their entertainment value. The club already had some renovations planned and took full advantage of being closed by expanding and revamping its patio area. They wanted to focus on having more event nights and renovations on the patio were the answer. "We've added so many things because of COVID-19 with our live music on Friday evenings, doing our 'Nine and Wine' events and leagues," said April Kendall, owner of Copper Hill. These changes garnered a very positive response from their members and patrons, but this isn't where the course stopped their updates. Copper Hill also updated their driving range, adding an indoor driving barn which allows golfers to come and practice their shots all year round. This change was made in hopes that they could increase traffic during the slow or colder months, which would be poignantly applicable to almost any Canadian golf course. Copper Hill even made some adjustments to the course itself to make it slightly easier, making it less abrasive to new and infrequent golfers. "We've received nothing but compliments and people really notice the changes on the course and how well it's being maintained," Kendall exclaims. On top of all these changes already listed, Copper Hill was looking to add batting cages and mini-golf to their list of offerings as well. All these changes have influenced not only the number of people enjoying what Copper Hill has to offer but also the variety of patrons coming to enjoy the Copper Hill experience. "Instead of just the typical male golfer we now have males, females, young, old and all in between coming out here," said Kendall. Increasing the variety of patrons through new and expanded offerings may seem like a recipe for success for golf courses going forward.
Golf has been unsurprisingly popular as an activity during the quarantine. As mentioned, it was one of the few sporting activities that could continue through social distancing rules. One would be remiss to think that the golf industry has only prospered through Covid-19, however. March and April saw almost every business publicly shut down, which included a vast majority of golf courses. In fact, there were an estimated 20 million tee times lost during these months and the industry had lost out on $1 billion in potential revenue. Things were about to look up, nevertheless. The National Golf Foundation has been keeping track of numbers in the U.S. that show that May had a 6.2% increase in tee times over previous years. June also showed that golf courses everywhere were experiencing full tee sheets. Interestingly, fall would prove to see even more rounds, with September seeing almost a 26% increase in monthly changes compared to last year. The jump in popularity of the sport this year has not been felt in every segment of the business, with golf resorts not seeing the same bounce back. All that said, NGF reported that October rounds were still high and there have been more juniors and casual players than ever before. While these numbers pertain to American courses, anecdotally, the same has been seen in Canada.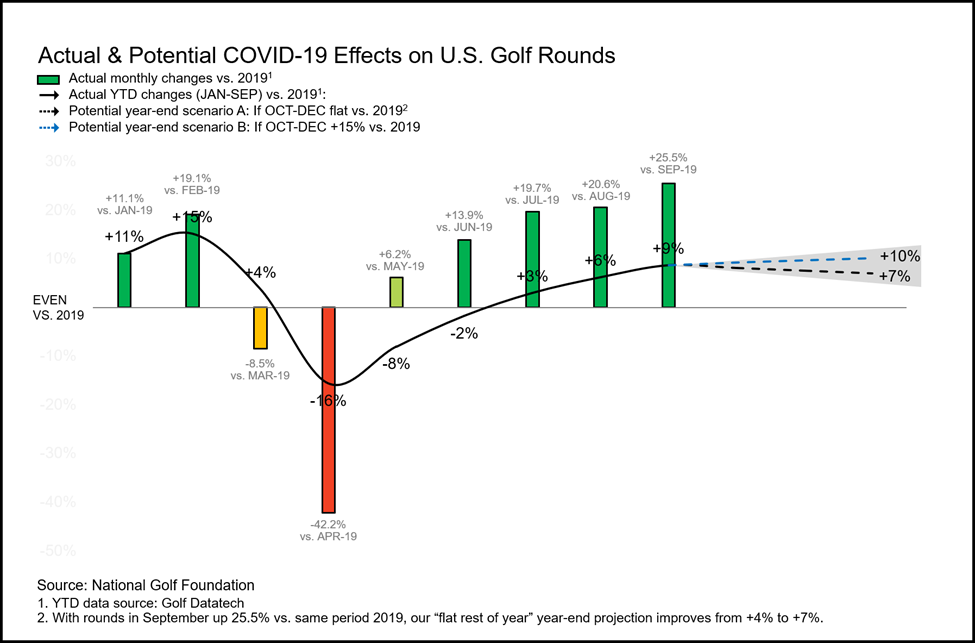 All of these changes to golf, unexpected and planned, along with simple fixes like the contactless-extracting devices put into the cups during the Covid era, have shown that the sport needs to see some change in order to become the immensely popular offering it once was. This had become evident to Ed Malcolm and me over the past few years. I have already written multiple articles that highlight the success and importance of businesses like TopGolf, who are looking at more than just golf as the main offering to attract people. Ed and I personally have even seen changes like pickleball courts added to the golf course (this can be seen at Copper Point golf course in Invermere, BC), and believe this is the future of golf. Golf Reimagined is a company started by Ed Malcolm to look at making healthy and interesting changes to the golf offering to keep people of all demographics interested in the amazing sport. Through extensive research, both primary and by industry contacts, we have compiled a list of over 80+ offerings to add to golf courses, in the hopes of providing what we like to call "the new golf experience". What changes would you like to see to the game to maintain the level of popularity we see early in the Covid-19 season?