Brooke Henderson – A True Canadian Phenom
Golf Reimagined's Business Analyst, Justin Lukacs, delves into the background of Canada's superstar golfer Brooke Henderson.
Brooke Henderson has proven to be a multi-faceted talent with a bright future in her chosen sport of golf. While she is mostly known for her accomplishments in the named sport, she has found success in other athletic pursuits that have solidified her status as a Canadian superstar. Already the winningest golfer in Canadian history, Henderson is still early in her career as she is only 23 years of age. The end of the 2020 LPGA season saw Henderson finish ranked 9th in the world. This talent didn't come out nowhere, as Henderson has been winning golf tournaments from a young age. I see a bright future for her as one of Canada's superstars.
Henderson's accomplishments in golf are nothing short of impressive. Her professional career boasts 9 tour victories, 55 top 10 placements, and a current rank of 9th in the world. Amongst scoring statistics listed on golfchannel.com, Henderson ranks top 10 in 7 categories, including being ranked first in rounds in the 60's and rounds below par. This shows that she is one of the most consistent players on tour. As I said, her success in golf does not come out of nowhere. Brooke was winning tournaments since a young age; at 16 she won both the Canadian and U.S. Amateur tournaments (2013/2014). While still an amateur she won 3 events on the CN Canadian Women's Tour and finished tied for 10th in the U.S. Women's Open, leading her to finish as the top-ranked female amateur golfer in the world, all before turning pro in December of the same year. She finished her amateur career winning more than 50 junior and amateur tournaments. Her trajectory was so fast that she passed up the opportunity to play varsity golf with scholarships to go straight to the LPGA.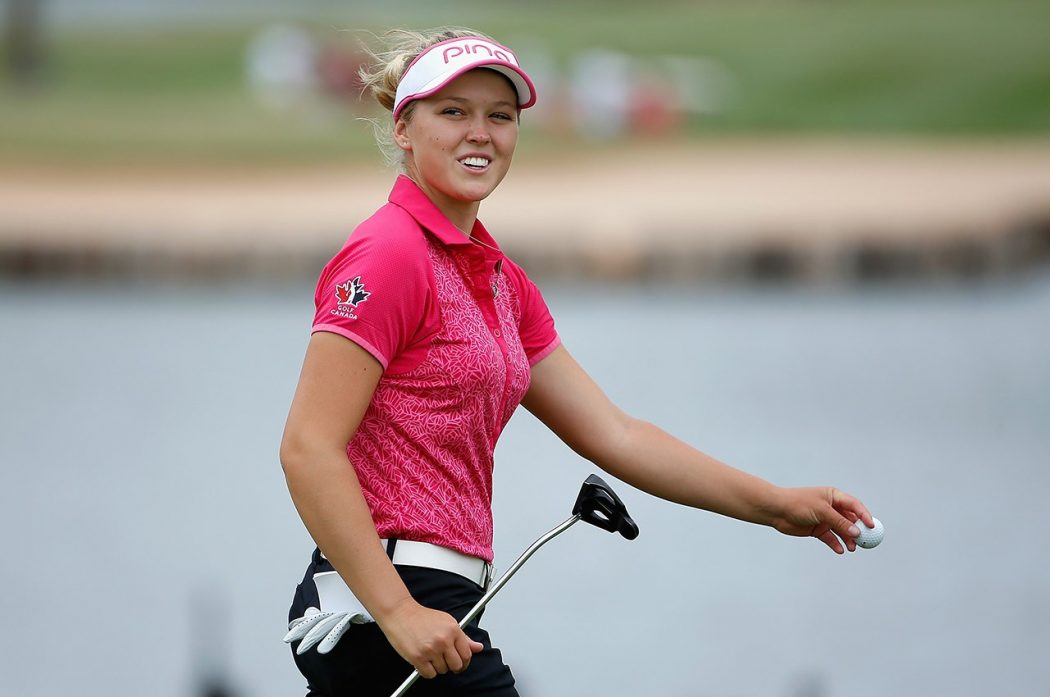 While all of this was happening for Brooke, she also experienced success stacking pads for the Smiths Falls Cubs, her local team. Her father played goaltender for the University of Toronto Blues and was back up to the Ottawa 67's, a team that held Hall of Fame coach Brian Kilrea. Inspired, Brooke followed in her father's footsteps and posted shutouts in some key games, including the "World's Largest Women's Hockey Tournament", held in Brampton during 2010. This tournament saw Henderson allow only 3 goals through the first 6 matches, letting the Cubs work their way to the finals where Brooke would shine even brighter. The Cubs would go on to win the tournament with Henderson being named the finals MVP, receiving the Warrior Stick Award.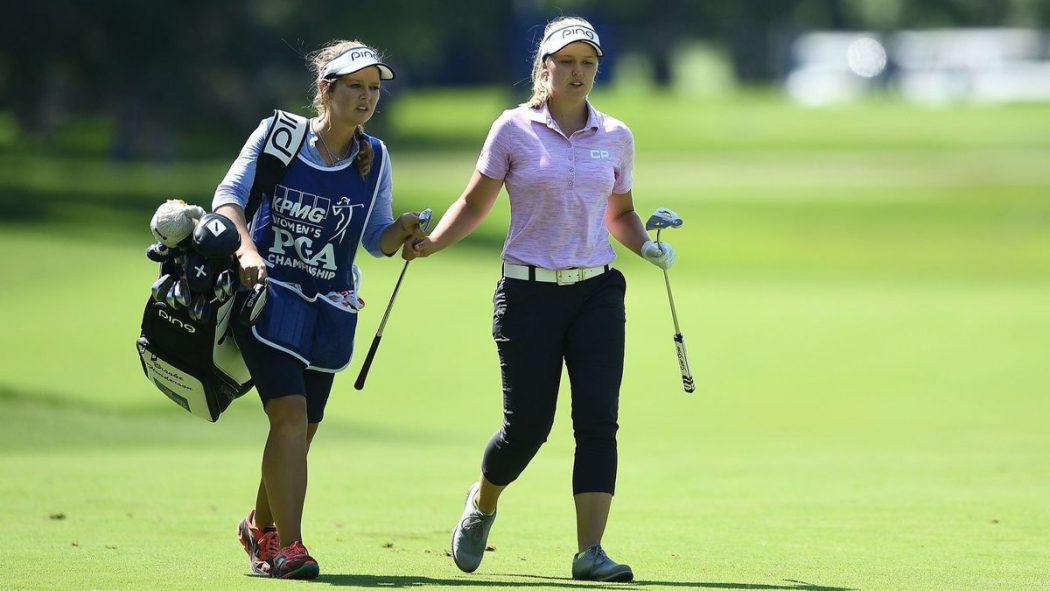 Another interesting facet of Brooke's game is that her sister Brittany is her caddie. A talented golfer herself, Brittany had the same coach as Brooke. "It works because we're best friends," said the 25-year-old Brittany. "Growing up our dad (Dave) was the coach for both of us. He taught us how to play golf, but he taught us a lot of respect for each other. That's the Number 1 element. It's how much respect we have for one another." The sisters find having a familiar face keeps things light on the course. "She's my best friend, my sister," Brooke said. "It's worked out really well. We'd better not get into any arguments because we're together 24/7." This system has allowed Brooke to be comfortable and confident while dominating the competition.
All these achievements prove Brooke Henderson is a true athletic superstar and I would be surprised if her success and skill on the ice didn't increase her already pearly reputation among Canadians. Being dominant in more than one sport also showcases her resilience and talent as an athlete, not to mention her potential. "I see a lot more victories to come for Brooke, I don't see her slowing down," said her fellow CP Has Heart ambassador Lorie Kane. Many commentators and analysts would agree. Henderson has more accolades than I can name in one article, including being a CP Has Heart ambassador and multiple Female Athlete of the Year awards. With the winningest career in Canadian golf history and a bright future ahead, Brooke Henderson is a true Canadian phenom.
For more modern sports updates and ideas, head to https://golfreimagined.ca/about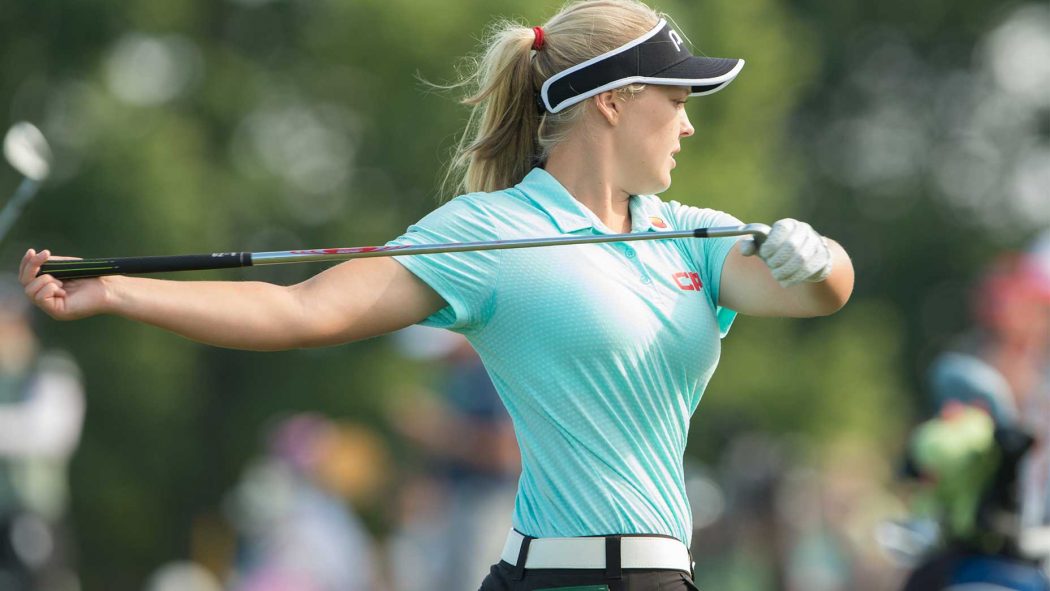 References
https://womenshockeylife.com/brooke-henderson-brings-hockey-background-to-growing-golf-legacy/
https://golfcanada.ca/article/brooke-henderson-class
https://www.liveabout.com/brooke-henderson-biography-4172624
https://www.lpga.com/players/brooke-henderson/98267/overview
https://www.golfchannel.com/tours/player/brooke-henderson
https://en.wikipedia.org/wiki/Brooke_Henderson#Awards
https://flagstick.com/tee-shots/historic-victory-for-14-year-old-brooke-henderson/
https://nationalpost.com/sports/olympics/gollf-column-willes