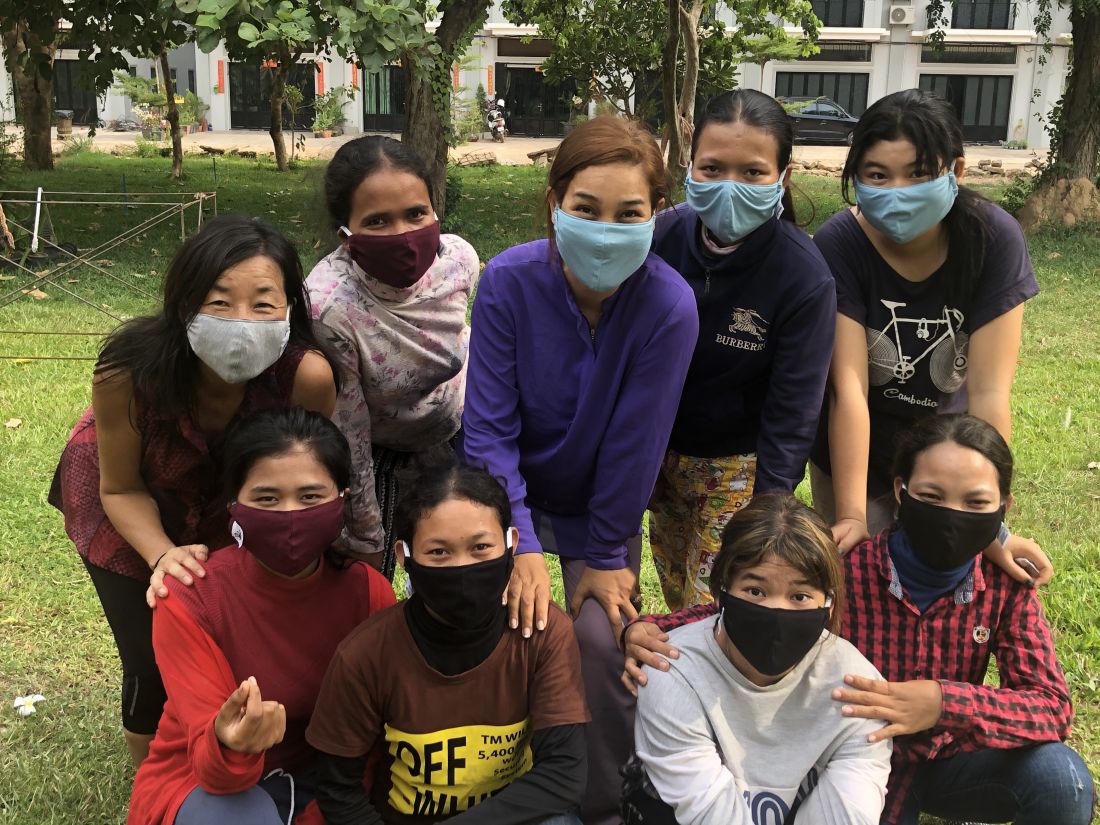 Work of Your Hand Charity Interview
Interview with Minako Polischuk.
Tell us about Work of Your Hand.
Work of Your Hand is a Canadian charitable organization that raises awareness and support to create social enterprise businesses in order to hire the poor and marginalized in developing countries in efforts to relieve poverty and advance education by providing vocational, agricultural, health, and literacy training so that the poor can find sustainable means of earning a dignified living and manage threats to health and survival.
The first social enterprise business was started in 2019 in Cambodia called Clothed in Dignity Sewing Center. There are currently 10 ladies who used to be scavengers in the city garbage dump not knowing how to read or write but have now learned how to read as well as trained how to sew and have made ten thousand drawstring bags, almost 400 school uniforms,  1400 t-dresses, 800 t-shirts, 400 sports shirt and shorts, polo shirts, cook shirts, aprons, pencil cases, book covers, as well as 20,000 face masks.
The second business is a welding shop called MadeForThis Fabrication. Currently, there are 9 men who have learned how to weld, creating school playgrounds, fish farm equipment, as well as vehicle pull carts, tables, chairs.  And they are also learning how to read.
However, most importantly are the teachings about how much God loves us all and how this changes their understanding of their self-worth and helps heal the wounds of the heart. We have daily devotions in both of the businesses where we share about how our creator God cares about us, how his son Jesus came to save us and died for us so that we can live in heaven in eternity. We also share about our daily care and concerns and help each other while also praying for one another.
What inspired you to start this organization?
Back in year 2000, we went on our first trip to a third-world country working alongside the poor and we witnessed first-hand poverty, the hopelessness of the people, and their lack of opportunity. We visited garbage dumps where people were scavenging because that is all they knew what to do. We met parents who sold their own children into prostitution so that they could feed their family. Life was so cheap. Then we learned that according to the World Bank that 150 million people are living like that in extreme poverty living on less than $1.90/day.  But what shocked us was that the vulnerability of the poor led to massive sexual violence, forced slave labour, illegal detention, land theft, police abuse, and oppression.  And according to the ILO, that human trafficking is estimated to generate 99 Billion US dollars per year.  We felt we had to do something to help the poor know that they have worth and to help raise dignity through work.
What differences have you noticed as a result of the support your organization has provided?
A lot. The women used to scavenge in the garbage dump all day looking for recycled items in the hot, diseased, smelly area with toxic fumes and broken glass, sometimes having to bring their children along. Sometimes they found work in construction as bricklayers and mixing concrete by hand and shovel under the hot sun. None of the work was consistent and they got sick or injured regularly.
Now that they make a steady income, they have more confidence, and are able to plan for the future and care for their children, sending them to school. They can concentrate more because they are not worried about where they will get their next meal. They have learned how to read, they are learning about health, budgeting, life skills, etc. Also, they are learning about God who has saved them, making them recognize that they have worth because the creator of the universe loves them. So they have a sense of hope and looking forward to the future.
The men in the metal fabrication shop have also changed. Men in poor villages are usually quite harsh, treating their women like possessions and yet cheating on them visiting KTV bars. The men often socialize together by encouraging each other to get drunk every night, smoke, gamble, and do drugs. However, our rule at the metal fabrication shop is that the men are not allowed to drink or be under the influence when working for us especially because they are using power tools. If they are found to be drinking/or under the influence then they will be fired on the spot.  They are also doing daily devotions and learning about God and how men should be leaders of their families, providing for them, caring for them.
So now they don't drink at all on weekdays, and they are more helpful and caring with their wives. They help with cooking, cleaning and doing the laundry since their wives are working. Although children is considered women's work, the men are now spending time playing with their children and taking them to school.  They even have family outings once in a while. The women share how amazing it is and how much their husbands have changed.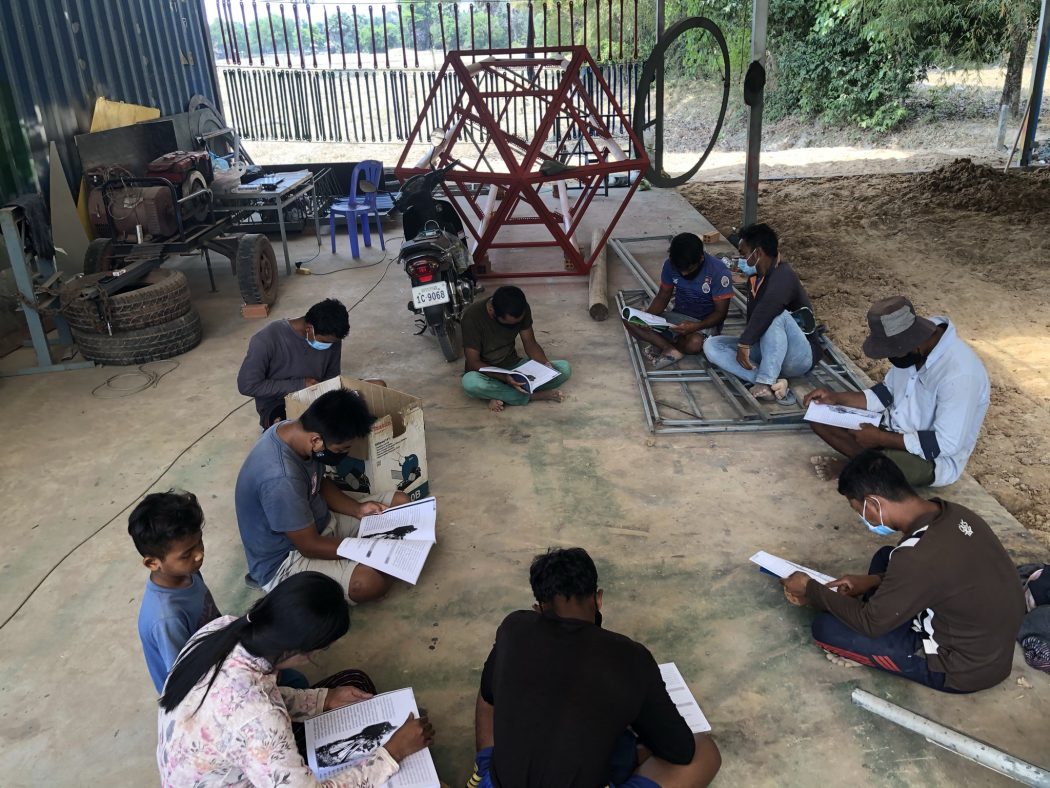 What are the challenges of growing this initiative?
Working with the poor has a myriad of challenges. Initially, they were continually asking for money, time off for illnesses, or help with family issues. It can be exhausting working with them. They all have relatives that are depending on them, with problems that are astronomical, like a family killing family members, construction work accidents leading to partial paralysis and given no benefits, diseases like tuberculosis, malaria, dengue, rabies, leprosy, AIDS, and especially mental health issues due to PTSD after the killings of the PolPot era.
Most of our employees haven't finished elementary school and had forgotten how to read. With little education comes a lot of superstition and fear which usually are very detrimental. Parents don't always value education and so the children are tending cows, or working in the field.
Corrupt lending institutions have tricked our employees, lending with extremely high interest rates that would have cause them to be enslaved for life had we not paid them well. Our ladies don't know how to divide or multiple let alone understand compounding interest rates.
Yet with all of these challenges, our organizations are doing well. And I believe this because of God's leading during devotional times. With messages of hope and love, care, and compassion, God is speaking into their hearts, and our workers are slowly healing and changing for the better.
How do you think people should determine which charitable endeavors to support, given the plethora of organizations doing such amazing things?
I believe that there are many organizations that are doing good things to help make the world a better place. So I think it is up to the individual to see if they connect with the mission or vision of the organization and then to check to see if the organization has transparency and integrity and has proof that they are doing what they say they are doing. If it is a Canadian charitable organization then the financial statement will be available online, maybe visit the organization in locations where they are working and how they are helping.
What brought you joy this week?  
Many times I am in awe of what is happening at the sewing center and at the welding shop. I remember seeing pictures of scavengers in garbage dumps on National Geographic magazines, and now I work with people like that, I know them by name and I love them. And I love seeing them grow and develop and I am stunned that it is all happening because I know that I am not that smart, capable, nor have those types of resources.  I know that it was because God was behind it. And I love it.